31. July 2020
This is CURENTIS. This is us.
René Richter is a regulatory specialist and has worked with various consulting firms and banks during his more than 15 years of career. Through a customer project he got to know CURENTIS as an innovative company and decided to join CURENTIS.
Why did you decide to join CURENTIS?
This question could also be answered with a counter-question: Why actually not? CURENTIS is an established consulting firm, which has been active on the market for over 10 years. Nevertheless, there is a flat hierarchy, which was the decisive reason for my entry. The discussions with the board of directors were at eye level right from the start. Here I have the opportunity to bring my own ideas into the company in order to help shape the future path. Nowadays this is no longer a matter of course. Also the possibilities in my career to take a step forward are clearly defined at CURENTIS.
What do your main tasks consist of and what does your daily work look like?
The main tasks are very different and varied, that is exactly what makes my job so special. No day is like the other. As a reporting specialist, I support financial institutions in coping with the immense demands made by regulators. This can, for example, be operational support for colleagues in the department or the assumption of a project on a new reporting topic.
Due to my many years of experience, I am also happy to act as a contact person for specialist topics internally. Younger colleagues in particular use my specialist expertise when they have questions or for further training. In addition, I support the board of directors in technical issues in the field of reporting.
What makes CURENTIS special or exciting for you?
Independence is something really special at CURENTIS. CURENTIS gives me the freedom to develop and grow. It doesn't matter if it is a free time management or which further education I would like to use. The short decision paths to the board of directors are a great help in this.
24. July 2020
KYC MORE: A digital solution for the Transparency Register
24 July 2020 – The extensive obligations arising from the Money Laundering Act also include provisions on the handling of the transparency register. With KYC MORE, CRIFBÜRGEL and CURENTIS have created a modular solution for an efficient KYC process that also covers these comprehensive obligations. More information…
20. July 2020
CRR II – Changes in credit risk
In our series on the changes caused by CRR II, we have already reported on the leverage ratio and valuation of undertakings for collective investment in transferable securities (UCITS).
The current article looks at changes in capital requirements for credit risk. Read more…
09. July 2020
CRIFBÜRGEL launches KYC MORE: AML-compliant corporate client onboarding – digital and efficient
Information service provider CRIFBÜRGEL and AFC specialist CURENTIS have launched KYC MORE, an innovative platform, as a solution for automated KYC processes. With KYC MORE, financial service providers can massively accelerate their KYC processes, whilst reducing overall costs. KYC More makes spending weeks of waiting for a KYC report a thing of the past. A finished report can often be delivered in seconds and the first customers have already decided to use our solution.
Companies opening bank accounts are often times dissatisfied with the respective application processes. Many financial institutions struggle to onboard their potential clients in a timely manner either due to interrupting queries or missing documents. Those processes no longer seem up to date. "We keep hearing about cases where the KYC process for customer identification took longer than a quarter of a year. In the case of loan applications, the duration of such processes can be decisive for the company's development," explains Dr. Frank Schlein, Managing Director at CRIFBÜRGEL. More Information…
02. July 2020
CURENTIS in the Virtual Race – Stockholm half marathon
The planned Stockholm Half Marathon had to be cancelled this year of course. But the organizers have come up with a great alternative and offer all registered participants the opportunity to participate in the Virtual Race.
The virtual race will start on September 04, 2020 at 06:00 a.m. and thus one day before the originally planned date. Then every participant will have the opportunity to run his 21 kilometres at some point within the next 72 hours.
The corresponding app "RAMBOLL STOCKHOLM HALVMARATHON" is already available for free download and registered participants can register.
How does the Virtual Race work with the app?
In the app you have the possibility to switch between two map views. You can either see the original Stockholm route and your virtual position on this route or your current position on your actual route.
At the same time, the app offers audio experience (let's see what that is) and Live Tracking allows friends and family to follow your progress along the track. The results list and certificate can be downloaded immediately after the race. Let's run Ramboll Stockholm Half Marathon Virtual Edition together!
CURENTIS is there – we keep on running!
25. June 2020
Leverage Ratio – Neuerungen unter CRR II
In our series on innovations from CRR II, we reported in June on the valuation of undertakings for collective investment in transferable securities (UCITS). In the following, a CURENTIS reporting specialist shows how CRR II affects the leverage ratio. More information …
18. June 2020

This is CURENTIS. These are us.
Ayoub Rafiq decided to join CURENTIS as a Junior Consultant immediately after his studies in business mathematics.
Why did you choose CURENTIS?
CURENTIS' many years of banking expertise in the areas of reporting, AFC and digital processes mean that you have a wide range of interesting topics and projects where you can expand your knowledge. This fitted very well with my interests, my internship during my studies and the subject of my studies.
What do your main tasks consist of and what does your daily work look like?
In my day-to-day work, I work for one of our clients in the KYC due diligence of the high risk corporate client portfolio. My responsibilities include screening and background checks of clients to identify potential risks (sanctions, politically exposed persons (PEPs), embargoes, negative news, etc.).
In addition, we at CURENTIS have the opportunity to contribute our ideas to the consulting and development process. This includes, for example, ideas for process digitization in the field of AFC or competition analyses.
Your personal highlight during your time at CURENTIS?
My personal highlight was my first team event at CURENTIS for the 10th anniversary in Portugal in the Algarve province. On this occasion I was able to get to know the team in a relaxed environment without any pressure. This has greatly enhanced cohesion
What makes CURENTIS special or exciting for you?
It is great fun to work with colleagues in a team. Above all, the hierarchy is flat and the management always has its employees' backs and supports them in their personal development through an extensive training program.
05. June 2020

Change in the valuation of undertakings for collective investment in transferable securities (UCITS)
With the new EU banking package, which is to be applied from 28 June 2021, further key elements of the Basel III framework are now being implemented through amendments to CRR II (EU No. 2019/876). This also results in significant changes to Article 132 CRR for capital requirements for risk positions in the form of units in undertakings for collective investment in transferable securities, abbreviated as UCITS. UCITS are investment funds that invest in legally defined types of securities and other financial instruments. They are subject to authorisation and supervision by the Financial Supervisory Authority. Find out more …
28. May 2020

Together for a better KYC process and against money laundering: CRIFBÜRGEL cooperates with CURENTIS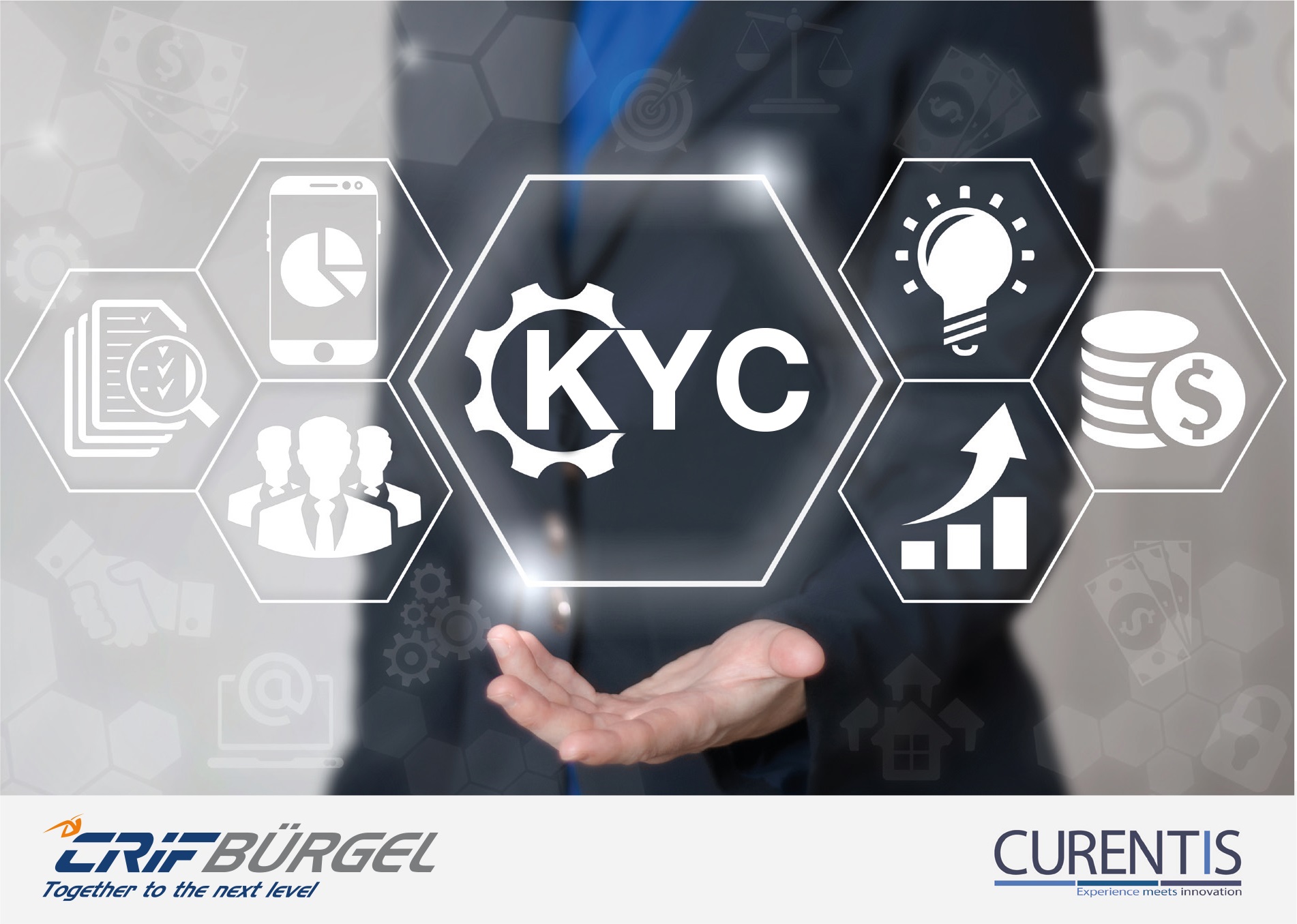 CRIFBÜRGEL is cooperating with CURENTIS AG with immediate effect and intends to further increase the quality for efficient KYC processes and set new standards in the fight against money laundering together with CURENTIS. The consulting company is a specialist for bank regulatory reporting, financial crime prevention and IT compliance and complements CRIFBÜRGEL's comprehensive customer identification services in the area of special and exceptional cases of corporate customer onboarding.
More information …
18. May 2020

EBA publishes updated calculation tool of liquidity coverage ratio
The European Banking Authority (EBA) published its updated calculation tool of the liquidity coverage ratio (LCR) with the aim to provide additional support for reporting institutions. This excel-based tool takes into account the amendments in the liquidity coverage requirement introduced by Commission Delegated Regulation (EU) 2018/1620 that applies from 30 April 2020.
More information is available on the EBA website:
https://eba.europa.eu/eba-publishes-updated-calculation-tool-liquidity-coverage-ratio
14. May 2020

This is CURENTIS. That's us.

Mr. Jakob started his career as a data analyst in 2008 where he initially focused on sales figures and MI reporting. This was followed by a vocational training, self-employment in project management and studies before he immersed himself in the world of consulting. Today he provides insight on how this came about and what fascinates him about his profession.
Why did you choose CURENTIS?
We commonly chose each other. I first came across CURENTIS towards the end of 2018 working on a project for a major German bank with international operations. Two of my current and much esteemed CURENTIS colleagues and I were jointly working on an anti-financial-crime project.
Right from the beginning, our discussions shaped the impression of an owner-led and value-oriented company. That was impressing and at the same time felt enticing career-wise. Time went by and I got the chance to get in touch with CURENTIS' board as well. We were and still are in quite steady contact on a both private and professional level. Ultimately, this led to us going to the whole hog.
What do your main tasks consist of and what does your daily work look like?
Generally speaking, what appeals to me about being a consultant is the diversity of my profession. In view of the wide variety of tasks, responsibilities and locations, there is no standardised daily routine.
Within CURENTIS I take on a hybrid role. On one hand, I am (set aside Corona-induced situations) on site at the client's premises, together with my team, supporting client onboarding, regulatory review & risk rating matters of our banking-client's portfolios. Those measures cover a wide variety of entities from owner-managed ltds. to internationally interwoven stock corporations. Our main focus is ensuring and complying with all regulatory requirements / deadlines, e.g. originating from German watchdog the "BaFin". It is crucial to our success to continuously reassess and adapt relevant process chains in the event of market-induced changes and to constantly communicate both within the team and with our clients.
Apart from my operational activities, I take care of our team's and of course client's concerns. It is crucial to constantly add value for both the Bank and the project. However, thereby interests and plans of the individual team members should not be dropped from the agenda. This balancing act can be a real challenge while it is also an invaluable catalyst for my personal and professional development.
On the other hand, we are in the process of spicing up our online presence, amongst others in the context of expanding our product business. Thereby I am concerned with the marketing of CURENTIS as such and our product solutions via LinkedIn – keyword awareness. Only those who are actively perceived on the market or within their specific target group can subsequently work on problem solving for potential customers.
What was your personal highlight during your time at CURENTIS?
At this point I must consent to my previous speakers. The 10th company anniversary of CURENTIS has clearly been one of my personal highlights. Our joint trip to the Portuguese Algarve was peppered with great locations, impressions and very good weather. Together with our companions, we had a great time and collected many positive memories on a very personal level. Fully detached from our daily "routine" and project work, we were able to take a deep breath and recover – big thanks and compliments to the board and organisers for this unique experience. Many of my CURENTIS colleagues have become real friends during my time at CURENTIS and especially this trip.
What makes CURENTIS special or exciting for you?
Probably many people thinking about becoming a management consultant have heard the classic prejudices about the industry and, I must admit, there is a spark of truth in every rumour. It goes without saying that CURENTIS has high quality standards. We receive a lot of input and accordingly run the extra mile from time to time.
However, what makes us unique, and I say this with the deepest conviction, is the unbroken cohesion of the team and the appreciation of our Board shown to us on a daily basis. Nobody needs to be a lone fighter within CURENTIS, even while being on a project on one's one. Everybody can and is encouraged to pursue his/her personal career goals with us. Where there is a wish to take the expert route, likewise there is the necessary support and extensive training available.
Within the various subject groups, we are in daily to weekly contact. Our team members are obliged to contribute their ideas and personal conceptions with regards to either client project or internal topics.
Are you interested in CURENTIS, one of our product solutions or an excursion into the world of consulting? I would like to invite you for a discussion / exchange of ideas via vincent.jakob@curentis.com.
7. May 2020

CURENTIS half marathon 2020: Virtual half marathon instead of starting in Stockholm
After the great Berlin Half Marathon in April 2019, CURENTIS wanted to compete in the Stockholm Half Marathon in September this year
Is that realistic this year? Numerous events have already been cancelled.
The Swedish organisers are currently still holding on to their event and have even combined the marathon originally planned for May with the half-marathon on 5 September.
www.stockholmhalvmarathon.se/english-new-star
We do not believe that a start is advisable. At the same time we want to stick to our sportive goal and keep our motivation high.
Therefore CURENTIS will start a virtual half marathon on September 5th at 9 am. If you are interested in participating, please write to info@curentis.com
Keep on running.
24. April 2020
CURENTIS in new offices

Due to the steady growth of the last years CURENTIS has moved into new offices. CURENTIS remains true to its location in Oberursel (Taunus) and is now located in Feldbergstraße 59 in a very central location and thus in close proximity to the subway and suburban train connection.
Niels Kühn, board member of CURENTIS AG, is pleased about the successful move and reports: "Until the very end, we were not sure whether the move, which was planned several months ago, and timely furniture deliveries and various trades could even take place during the Corona crisis. But then everything went very well. Now we are happy about the nice big and bright office. As soon as this is possible again, we will be very happy to welcome our customers and partners here".
14. April 2020
This is CURENTIS. That's us.
Harun Ara decided to join CURENTIS after his studies of technically oriented business administration. During his studies he could already gain first consulting experience in a large consulting company. Here he gives us exciting insights.
Why did you decide to join CURENTIS?
On the one hand, I find the field of reporting very interesting, because you have to be reliably up-to-date in the relevant topics. This is the only way to meet the constantly changing requirements. The active acquisition of knowledge and, conversely, the expectations of consultants are therefore very high. On the other hand, after my studies I was faced with the choice: large or small management consultancy? Here made CURENTIS a very good impression on me. Flat hierarchies, a personal working atmosphere and the focus on specialized knowledge were decisive for me. I was also convinced by the management's open, honest and appreciative approach to employees right from the start.
What does your main tasks and your daily work look like?
I am currently working for a major German bank, where we are implementing new regulatory requirements for the bank. My role is to implement operational changes as well as to monitor project progress and drive the project forward. Maintaining information flows within the team is crucial to this. In day-to-day work, this means a lot of exchange with interesting people in meetings or via e-mail and telephone.
Your personal highlight during your time at CURENTIS?
An absolute highlight was the celebration of the 10th anniversary of the company in the Algarve. Here you could take a break from project work and talk to your colleagues not only about work. Furthermore, after 2.5 years as a consultant at CURENTIS I can already be used as deputy project manager. Growing in his tasks as well as getting to know new topics and people are the best experiences as a consultant for me.
What makes CURENTIS special or exciting for you?
I am convinced above all by the friendly cooperation. One looks for elbow-mentality in vain. I experience a lot of appreciation and the development opportunities are also excellent. So far I have been able to go through highly regarded and qualitative further training on topics in which I would like to develop further. Another exciting aspect is the company's growth course and the opportunity for every employee to contribute new ideas.
08. April 2020
PAONE Holding GmbH decides to use YourKYCplus
PAONE Holding GmbH, a real estate enterprise headquartered in Hanover, Germany, decides to use CURENTIS' YourKYCplus outsourcing solution.
Marco Neef, MRICS, managing director of PAONE Holding GmbH, provides insight on the reasons for his decision:
"YourKYCplus supports us fulfilling the anti-money-laundering law's requirements efficiently and economically. Thus, we are always on the safe side for possible, regulatory examinations ".
YourKYCplus enables companies to outsource workload around the anti-money-laundering law and free up capacities to concentrate on their core business.
YourKYCplus reports contain the following information:
Credit rating information
Current company data e.g. originated in commercial and transparency registers
Ownership structure
Legal representatives and beneficial owners
Risk factors
YourKYCplus users do not pay a basic fee, but only per use.
Find out more: www.yourkycplus.com
September 2018
CURENTIS is now offering IT Transition Management 
CURENTIS is offering Transition Management Services with an multicultural team with international experience of Transition and outsourcing projects in the industry and financial sector.
Effective IT transition management ensures your environment is integrated in a seamless manner with a focus on maximizing business availability.
CURENTIS focusses on opportunities for streamlining and strengthening your operations. Our approach is supported by effective project management, communication and governance.
At CURENTIS, we manage the transition (includes implementation and transformation) from a neutral perspective in the customers interest, which includes complete transition of SAP-Applications, Non-SAP Applications, Business Intelligence and Infrastructure.
Offerings/Features:
Form appropriate governance enabling programme support, buy-in and approval
Shape an achievable portfolio of transition initiatives
Stakeholder and customer expectations management throughout the transition lifecycle
Ensure seamless transition environments without effecting end-user experience
Risk Assessments to prioritise foreseen problems
Programme and project level management through the entire process
Benefits realisation planning
Evidence driven gated approach which prevent drifting into go-live
Entire process can be project managed by CURENTIS
Benefits:
Full understanding of programme scope by transition team and business
Improved business communications through effective relationship and programme governance
Transition planning and management skills and knowledge and upskill
Fully integrated partnership through transition of client and service providers
Successful go-live through well planned knowledge transfers and pilots
Minimal disruptive effect of transition on business as usual activities
Less wasted time developing inoperable functionality
Identify deployment issues in advance to better manage expectations
Documentation to support further development and future transitions
Successful lead into subsequent transformation initiatives
If we have aroused your interest,  please contact info@curentis.com .
August 2018
Security of customer data and information systems to ward off cyber attacks
The most recent laws and regulations (DSGVO, PSD2 and BAIT) increase the requirements for protecting the integrity and availability of customer data and IT security in banks.
A successful IT organization meets these requirements by a proactive and risk-based risk management and IT security. IT risks came into the focus of banking supervision in the most recent past and various institutions have requested substantial SREP capital add-ons. The risks arising from the use of IT systems directly affect the capital requirements of a bank.
According to the EBA ICT the supervision subdivides IT risks into the following 5 categories:
(1) ICT availability and continuity risk: Bank processes are not or only partially available
(2) ICT security risk: Banking systems are exposed to external and internal attacks (such as cyberattacks)
(3) ICT change risk: Changes to banking systems lead to disruption
(4) ICT data integrity risk: the data stored in the IT systems is incorrect or inconsistent
(5) ICT outsourcing risk: Bank services can be compromised because of a service provider failure
CURENTIS AG offers to its customers the following services in the context of IT risk management and application security management:
Concepts and implementation of an application fraud management
Authorization Design Matrix of the information systems taking into account the segregation of Duties according to MaRisk
Business Impact Analysis for rating information systems
Identification and analysis of security events
Determination of the attack vectors• Outline the critical scenarios
Application Security Monitoring (ASM)
If we have aroused your interest,  please contact info@curentis.com .
July 2018
ACAP: Sustainable Consulting with Absorptive Capacity
The ability to bring new information into a company, distribute it among the staff and then use it meaningfully for the company's success is a crucial competitive factor. In particular, in order to respond to changing market requirements and help shape them through innovation, the successful use of external knowledge is becoming increasingly important.
For the long-term success of a company, it is particularly important that this knowledge is not only available to individuals or for a project, but that there is also a suitable process by which this know-how is available to the company in the long term. The ability of a company to absorb knowledge is referred to in science as Absorptive Capacity (ACAP) and is understood as the skillset of acquiring, assimilating, transforming, and exploiting new knowledge. The increased pressure for change as a result of digitization has further increased the demands placed on companies in this area.
But what impact do consultants have on the absorptive capacity of companies?
CURENTIS employee Harun Ara has dealt with this topic in the context of his master's thesis at the University of Stuttgart. Based on expert interviews with various consulting companies, he has developed suitable measures to increase the absorptive capacity of companies.
On this basis, CURENTIS has developed a consulting service that supports companies in increasing their absorptive capacity. If you are interested in the topic, please contact info@curentis.com .
April 2018
Brexit is making Frankfurt more attractive for banking consultants
The impact on banks and related jobs caused by the Brexit has been discussed intensively in the media. There is talk of an additional 5000 to 15000 banking jobs being created in Frankfurt.
The migration of a lot of bankers from London to Frankfurt also affects the demand for consultants. The affected banks need support for the issues caused by the shift. Particularly the core competencies of CURENTIS, which are regulatory reporting and anti-financial crime, are affected.
At the same time CURENTIS receives applications from young, high-skilled consultants, who want to take another step in their career and get a foot in the door for a more promising work environment in the financial sector outside of Great Britain. It is about motivated and dedicated professionals, who plan an international career in Frankfurt. For these consultants Great Britain has lost attractiveness.

CURENTIS can provide assistance in the relocation and language training to these candidates and looks forward to the excellent newcomers in our team.
July 2017
New Proptech solution from CURENTIS Risk FACTORY available!
The specialist for KYC processes, fraud prevention and credit checks expands its offer portfolio and publishes the Rental-CHECK solution for the real estate market. The Rental-CHECK app significantly shortens the process steps in the case of the identity- and creditworthiness check of potential real estate customers by means of the automated recording and checking of all necessary documents and information: Through online account access or through automated real-time checking of the imported pay slips directly via app.
Rental-CHECK enables private and institutional landlords, brokers and real estate companies to verify the digital identity- and creditworthiness check of their prospective tenants.
It includes the tenant's self-assessment as well as the identity check by taking a photograph of the identity card and the mobile credit assessment through pay slip- or account statement analysis.
Niels-Jens Kühn, head of Product Management at CRF, commented on the new app "we are positioning a very fair offer for the real estate industry, which significantly increases the efficiency of the processes".