Investing directly with impact in Africa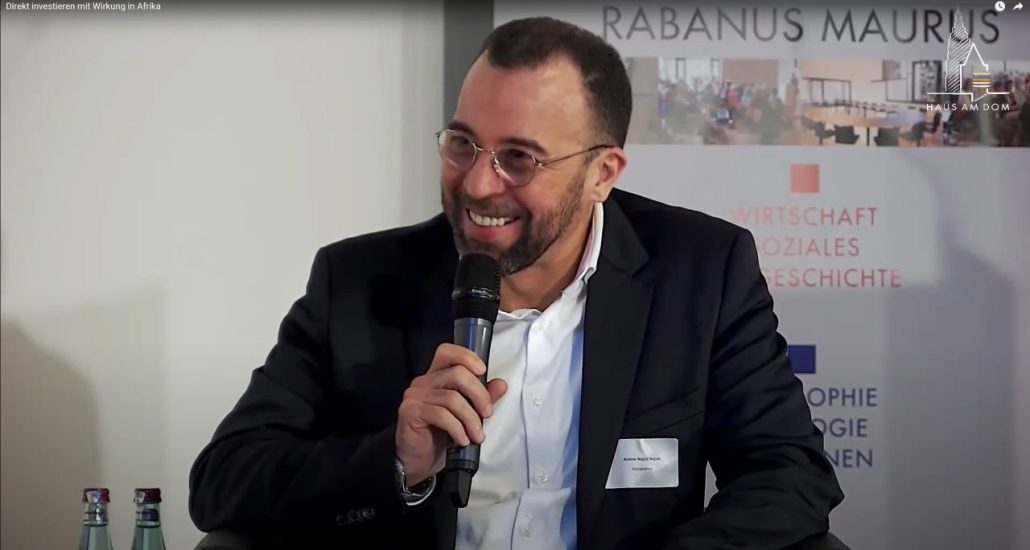 On April 17, CURENTIS-AFC consultant Amine Najidi moderated the panel discussion at the evening event "Investing directly with impact in Africa: opportunities and risks in the current environment". Amine Najidi summarizes the contents of the event and his personal impressions in this article.
Africa's future is Europe's future. Our neighboring continent is strongly linked to Europe in many respects. Historical, cultural and economic factors are of great importance. How can Europe, and Germany in particular, become a global driver of Africa's sustainable development? How can the immense social and economic challenges be mastered and what role can impact investments play in this?
With this in mind, an interesting event was held last Monday at the Haus am Dom at the Catholic Academy Rabanus Maurus in Frankfurt am Main with highly exciting guests on the topic of "Investing with Impact in Africa, Opportunities and Risks in the Current (Macroeconomic and Geopolitical) Environment".
At this event I had the pleasure and honor to interview two very interesting personalities, Ms. Edda Schröder, Founder and Managing Director of Invest in Visions GmbH and Mr. Uwe Schober, Head of Equity at Finance in Motion GmbH.
Both companies are literally pioneers of impact investing and the promotion of sustainability-related investments worldwide, particularly in the field of microfinance, with a presence in over 50 countries and an investment volume of over 4 billion euros.
During the panel discussion: insights and strategies from different perspectives, we were able to talk very openly about important issues and questions about impact investing, especially microfinance funds in Africa. The following aspects were considered:
The current development aid program of the German government.
Investing rather than donating with a view to targeting private financial resources to achieve sustainable economic growth for Africa, particularly in education, healthcare and the agricultural sector.
Article 9 funds, or "dark green funds," and how the EU's Sustainable Finance Disclosure Regulation (SFDR) raises the bar for investment products by setting strict minimum disclosure standards to prevent greenwashing, thereby creating greater transparency and measurability.
Status and further development of African countries in terms of good framework conditions, especially governance
What is the role of well-planned technical assistance to borrowers and local loan servicers to avoid increased over-indebtedness or insolvency?
What role can FinTechs as well as new technologies around blockchain and peer-to-peer finance play in opening up new participants for the financial sector and thereby providing necessary impetus for economic development?
Further exciting contributions were made by Mr. Salisu Abdullahi from Kano/Nigeria about the company eTrash2Cash, which he founded and manages. Ms. Marilyn Heib, Managing Director of Germany's leading crowdinvesting platform Bettervest GmbH, provided interesting insights into her activities, especially her involvement in Africa. Mr. Schober highlighted possible alternative actions and measures to compensate risks of local currencies.
A special thank you goes to our guests, Ms. Edda Schröder (Invest in Visions), Uwe Schober (Finance in Motion) and Ms. Marilyn Heib (Bettervest) Ms. Katharina Lange for her interesting contributions and research on Technical Assistance (GLS Alternative Investments microfinance fund).
A big thank you also to the organizing team Gesa Vögele from Mimastitan - Sustainable Finance Research & Consulting, Claudia Tober from CRIC - Corporate Responsibility Interface Center e. V. and Lothar Jakab from Steinbeis Consulting Impact Investing, Dr. Georg Hontrich Director of Studies, Catholic Academy Rabanus Maurus, thank you also the Frankfurt financial ethics forum, the Haus am Dom.
https://curentis.com/wp-content/uploads/2023/04/Amine_Moderator.jpg
684
1280
julian.schlosser@curentis.com
/wp-content/uploads/2022/02/logo-2-2-1.png
julian.schlosser@curentis.com
2023-04-24 09:16:41
2023-04-24 09:16:41
Invest directly with impact in Africa