SV Rot-Weiss Merl's journey ends in the semi-finals of the FVM Cup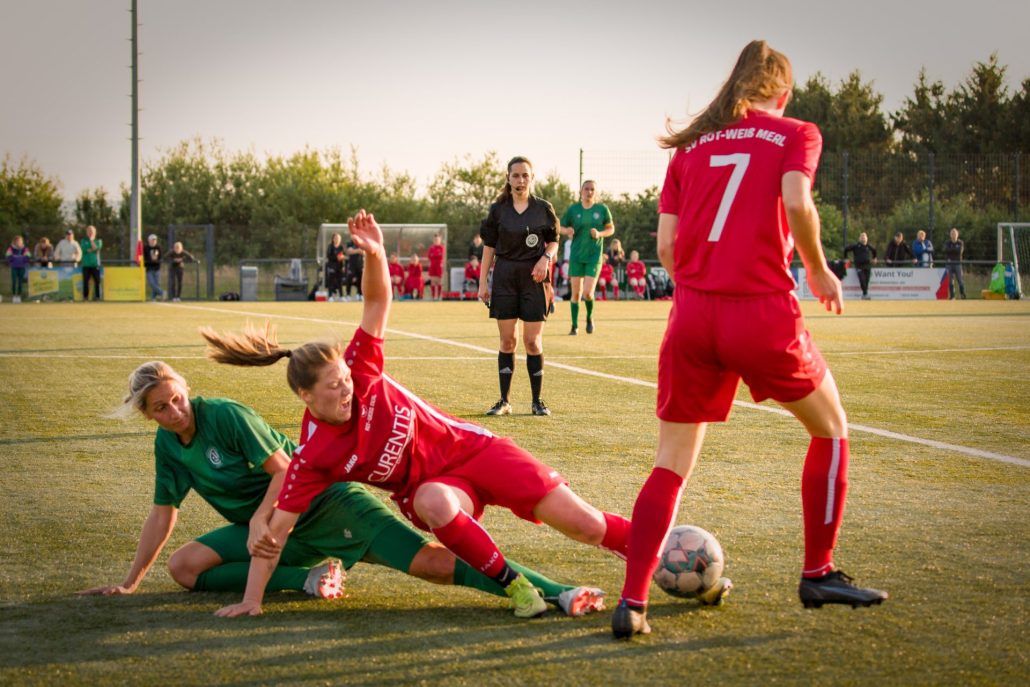 In the semi-final of the FVM Cup, the women from Merl met the women of the Cologne Sports University, who play two classes higher. The difference in class alone meant that the roles were clearly distributed. However, the women from Merl had already caused a surprise or two in the previous rounds of the cup and so they also wanted to ensure an entertaining cup match against the Cologne team.
The women from Merl wore red - the CURENTIS AG jerseys were to provide the necessary luck in this cup match as well.
The preliminary decision was already made in the first half
The cup match was characterised by a lot of tempo and Merl managed to relieve the pressure again and again, but the attacks did not result in a goal. In the 24th minute, the first goal was scored - for the women of the Cologne Sports University. They finished a counterattack with concentration and scored the 0:1.
But even after falling behind, the Merl girls tried hard to equalise, but they did not succeed. With the half-time whistle, the Merl girls had to accept the 0:2 after a corner.
Full risk in the second round
Due to the poor starting position, the women of SV Rot-Weiss Merl had no choice but to play more offensively and thus offer the women of Cologne more space. The women from Merl were always dangerous in front of the goal of the Sporthochschule Köln, but the goalkeeper from Cologne was able to show her class in various scenes.
As already feared, the women of Cologne took advantage of the space in the second half and counterattacked the women of SV Rot-Weiss Merl again and again, so that in the end the score was 0:5.
Pride prevails after the defeat
In the end, it can be said that Sporthochschule Köln deserved to enter the cup final. The individual class as well as the high tempo of the Cologne women leaves no doubt about the qualities of the team and the well-deserved victory.
Nevertheless, CURENTIS AG is proud of the entire season of the women from Merl. The women gave their best and provided an entertaining cup competition. We hope for similarly exciting games in the coming season!
https://curentis.com/wp-content/uploads/2022/06/SV_Merl_HF.jpg
1280
1920
julian.schlosser@curentis.com
/wp-content/uploads/2022/02/logo-2-2-1.png
julian.schlosser@curentis.com
2022-06-27 13:00:11
2022-06-27 13:02:53
SV Rot-Weiss Merl's journey ends in the semi-finals of the FVM Cup